Who needs a typewriter in this day of computers and printers? Well, everyone needs a typewriter sometimes, whether to fill out a job or college application, fill out a medical form, or address an envelope. In fact, about one million electronic typewriters are still sold every year, and 85% of secretaries who use personal computers also use typewriters for some job tasks. However, today's typewriters offer much more than the simple typewriters of years past.
More Features than Ever Before
Manual typewriters have been office fixtures since the late 19th century, but during the last 50 years, they have largely been replaced by electric and electronic typewriters as well as word processing computers and software programs.
Typewriters have evolved over the years from manual models to electric models to today's electronic models that rely on the same microchip technology as do personal computers. A modern, electronic typewriter may look similar to a typewriter from 10 or 20 years ago: same general look and feel, same type of keyboard, maybe even the same way to roll in the paper. But go typewriter shopping today, and you will find an array of features that were unavailable in the past. For example, typewriters today often include:
LCD screens, usually showing up to two lines of text, so you can view and correct what you have typed before you actually put ink to paper.
Spell-checkers that inform you of spelling errors on the fly.
Auto-correct function that lets you lift off characters, words, or lines from your typed paper.
Choices to change the font (what the type looks like) and the pitch (number of characters per inch).
Preformat options that automatically put text in the right place on a form.
Address card features that let you store names and addresses and then merge them into letters, forms, mailing labels, and envelopes.
Automatic page numbering.
Ability to handle features of multiple languages, such as accent marks.
Automatic text features, such as centering, justifying paragraphs, bolding and italicizing text, and indenting the first line of paragraphs.
Text editing functions that let you backspace, insert and delete text, move text from one place to another, and search and replace words in your document.
Digital memory and removable storage media interfaces.
And while electronic typewriters offer many of these same features you might have thought you could only find on a computer, they are often easier to use and more user-friendly than a computer. Plus you don't have to buy additional software!
But I Just Want an Old-Fashioned Typewriter!
If you don't want a typewriter with all these features, you can still find old-style typewriters and supplies at websites such as MyTypewriter.com, which sells classic typewriters from throughout the 20th century.
For more information about today's electronic typewriters and the fascinating history of typewriters, visit these websites:
Typewriter Reference Websites
Typewriter Dealers
Typewriter Manufacturers and Suppliers
---
Typewriters - Typewriter Consumer Guide
Related Typewriter Image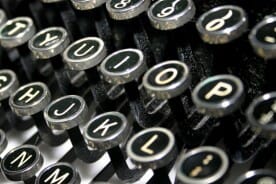 Vintage Typewriter Keys